Cosmetic Services and Procedures
Sun Dermatology in Panama City, Florida is proud to offer a wide selection of cosmetic procedures for all of your skin care needs. All of the cosmetic dermatology services and procedures that are offered at SunDerm are handled by our highly trained medical staff and board certified dermatologists. Each of these non-surgical treatments can reverse the signs of aging, correct blotchy or irregular pigmentation and even resurface irregular skin pigmentation. We can help you achieve a significant cosmetic improvement in moments and with no long term recovery time.
Neuromodulators/Toxins: Botox, Dysport
Fillers: Volbella,Voluma,Juvederm Ultra,Juvederm Ultra Plus,Restylane,Restylane Lyft, Restylane Silk, Sculptra
We also carry LATISSE® to help grow eyelashes for people with inadequate or not enough lashes.
Sun Dermatology Cosmetic Services by Condition
Double Chin:
Kybella – Read More
Lip Enhancement:
Restylane – Read More
Juvederm – Read More
Unwanted Hair:
Splendor X – Read More
Acne Scarring
Microneedling with platelet rich plasma
Accupulse CO2
Vbeam Prima – Read More
Hair Restoration
Micorneedling with plasma injections – Read More
Vaginal Rejuvenation
For dryness, stress incontinence, and tightening
FemTouch – Read More
Tattoo Removal
PiQo4 – Read More
Chemical Peels
Chemical Peels can easily improve the look and feel of the skin on your face, neck and hands. Chemical peels can reduce the visibility of lines around the mouth and under the eyes, help with wrinkles caused by sun damage, improve the look of scars, age spots and freckles and even treat certain types of acne.
Superficial or Lunchtime Peel
Alpha-hydroxy acid or another mild acid is used to penetrate only the outer layer of skin to gently exfoliate it. The treatment is used to improve the appearance of mild skin discoloration and rough skin as well as to refresh the face, neck, chest or hands.
Medium Peel
Glycolic or trichloroacetic acid is applied to penetrate the out and middle layers of skin to remove damaged skin cells. The treatment is used to improve age spots, fine lines and wrinkles, freckles and moderate skin discoloration. It also can be used to smooth rough skin and treat some precancerous skin growths, i.e. actinic keratosis.
Deep Peel
Tricholoracetic acid or phenol is applied to deeply penetrate the middle layer of skin to remove damaged skin cells. The treatment removes moderate lines, age spots, freckles and shallow scars. Patients will see a dramatic improvement in skin appearance. The procedure is used on the face and only can be performed once.
KYBELLA®
Sun Dermatology is also featuring the first and only injectable double chin treatment: KYBELLA® (deoxycholic acid) Here is a a before/after of one of our patients from a single treatment with Kybella. The active ingredient in KYBELLA® is synthetic deoxycholic acid. Deoxycholic acid is a naturally occurring molecule in the body that aids in the breakdown and absorption of dietary fat. When injected into the fat beneath the chin, KYBELLA® destroys fat cells, resulting in a noticeable reduction in fullness under the chin. Once destroyed, these cells can no longer store or accumulate fat, so further treatment is not expected once you reach your desired aesthetic goal.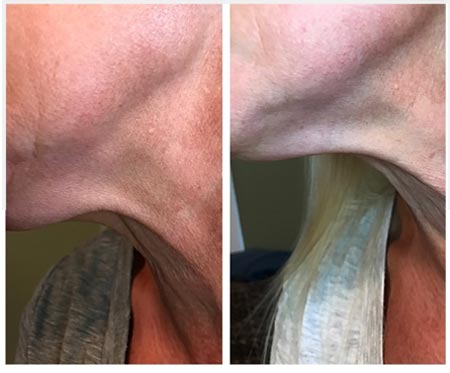 Sun Dermatology always welcomes new patients and looks forward to welcoming you into our family. For more information or to schedule an appointment, contact the offices today.
Please submit any general questions you may have via the form below. One of the staff members from Sun Dermatology will be happy to follow up with you within the next 48 hours.

Sun Dermatology Is a Proud Member of the American Medical Association, American College of Mohs Surgery, the American Academy of Dermatology and the American Society of Dermatologic Surgery.
Sun Dermatology is not affiliated with Sun Pharma, or Sun Pharmaceutical, Inc
Copyright 2016 Sun Dermatology, Panama City, Florida. All Rights Reserved | site: BGFX